Current Events
TBA
Past Events
400 Test Tiles – August 22 – 31, 2020
Craft Ontario
1106 Queen St. West
Toronto, ON, Canada
M6J 1H9
T 416-921-1721
shop@craftontario.com

I'm happy to announce my upcoming show entitled "400 Test Tiles" taking place at Craft Ontario from August 22 – 31st.
Regretfully, there is no opening event due to COVID-19.  Currently, they plan to be open 2:00 – 6:00pm daily. However, there is the possibility for people to book appointments before 2:00pm.  This may change by August. Please check back and we will update as we know more details.
Printed Ceramic Surfaces – July 15 – 19, 2019
This week long workshop explores printing methods appropriate for clay surfaces.  Learn, experiment and apply; mono prints, transfer techiques, sceen making and printing, lithography, decals and a variety of other techniques which can be used to embellish ceramic suraces at all firing temperatures.
Cost: $500 (all materials included)
Contact: Angelo di Petta for any further information adp@nexicom.net or call 705-932-3558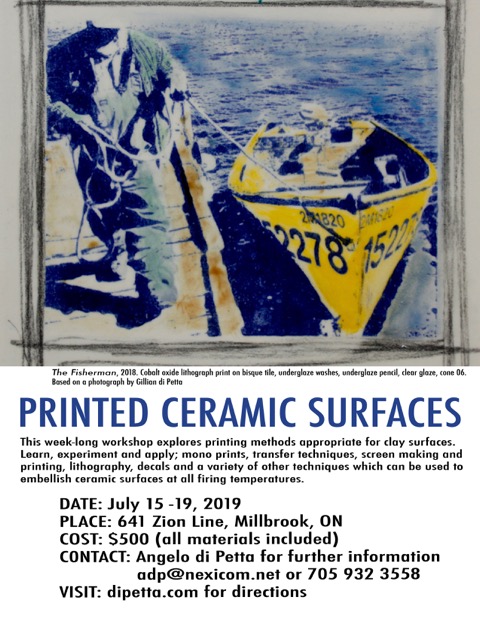 March 19, 2015 – April 11, 2015
Jonathon Bancroft-Snell Gallery in London, ON
"Slip & Inject Revisited"
Coming from Design At Riverside in Cambridge, Ontario.
Plus additions of work spanning from 1995 to the present.
Youtube Video of Dec. 7th Artist Talk